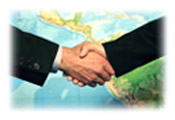 Partners

AcroVision partners extensively in order to bring the most complete, comprehensive, and high quality solutions to clients.

Our top tier software relationships provide us - and our clients and partners - with access to the latest technologies, and our industry business relationships provide a strong team of experts and service providers. AcroVision is an IBM Software Business Partner, and a member of the Microsoft Developers Network.

AcroVision also partners with other complementary players in the industry. We welcome opportunities to team with others when our services complement or enhance theirs. We also partner with strategic and tactical business consultants, graphical designers, application developers, and technical specialists in order to provide breadth and depth to our clients.

To provide infrastructure and administrative support services, we partner with top hosting and outsourced infrastructure services providers, and are familiar with the providers that can meet specific needs.